Swiss Energy Dashboard
We are working on a toolkit / demo application where we try to visualize data coming from an OpenHAB setup. This setup sends some key values like electricity consumption and production. We are taking this information and putting it into an ElasticSearch cluster using MQTT, Xively and Logstash, and enrich the data with PLUS Energy building database from energy-cluster.ch and eco-villages.ch
The key thing we're trying to do is calculate PLUS Energy factor of the home - basically a number which says if it is energy-neutral/-friendly/-negative. We try to correlate this data, get a simple number, and create a dashboard visualizing these numbers.
We need more data! If you have data from your house, please send it - format specification: 16_Database-1000_peg_Template.xls
Data
Team
Event finished
09.04.2016 15:30
Event started
08.04.2016 09:00
Energy of Buildings
Thanks to the Internet of Things (IoT) soon every device in our home will be creating data, about itself, about the environment, about us. At previous open data events we learned to create our own sensors and "open up" the data in various devices. Let's see what we can do with the next generation of open IoT data! Have a look at projects tagged energy and hardware in the wiki.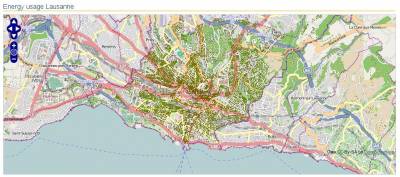 Open Energy Data Hackdays