RebApp
#5 Es sind immer mehr Rebsorten auf dem Markt verfügbar, doch ist dies die richtige Sorte für meine Region?
rapp
The rapp project was developed during the OPEN FARMING HACKDAYS 2022
The idea of the app is to make it easier for a winemaker to select the grapevines he wants to grow. In order to achieve this, the user is provided with a variety of filtering options that allow to filter the more than 50 possible grape varieties according to their suitability for a specific location.
Repository content
Contains a Python script for collecting historical meterological data from various measuring stations that are important for the growth of grapevines.
Contains a python script for collecting basic data about different grapevine varieties
The webapp with which the winemaker can filter the different grape varieties according to the requirements of his vineyard.
Demo: https://brueni92.github.io/rapp/
Ausgangslage
Im Kanton Aargau sind rund 90 Traubensorten für den Anbau von AOC-Weinen zugelassen. Dazu kommen immer mehr Neuzüchtungen auf den Markt, welche pilzwiderstandsfähig sind und durch die Klimaveränderung können vermehrt Sorten angebaut werden, welche wir aus dem Süden Europas kennen. Für die WinzerInnen wird es somit immer schwieriger die geeignete Sortenwahl zu treffen.
Idee
Um die Winzer bei der Sortenwahl zu unterstützen wäre eine App oder ein Programm wünschenswert, welches möglichst viele Sorten enthält. Idealerweise wird die Auswahl der Sorten durch den Standort, die Weinart (Rot, Rosé, Weiss), Produktionsmenge (in g/m2) und weitere Punkte eingeschränkt. Somit erhalten die WinzerInnen eine Auswahl von maximal 5 Sorten die auf ihre Rebparzelle passen. Dazu sollen möglichst Sortenbeschriebe angezeigt werden.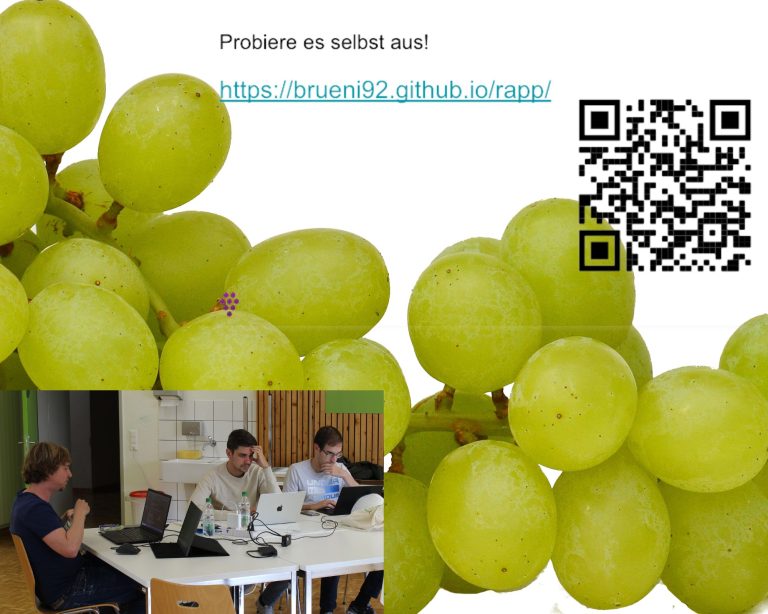 Open Farming Hackdays 2022